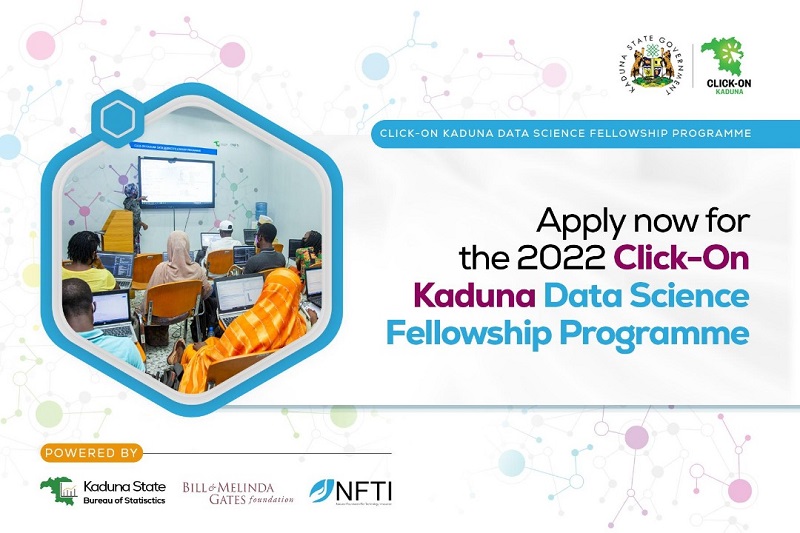 Click-On Kaduna Data Science Fellowship Scheme 2022 for young Nigerians
Deadline: May 20, 2022
Applications for the Click-On Kaduna Data Science Fellowship Program 2022 are now open. The Data Science Fellowship Program is part of the Kaduna State Data Revolution Plan aimed at enhancing coordination in the collection and use of data for evidence-based decision-making.
The data science fellowship program over a period of 5 years would build the capacity of 100 young people in cohorts. The first cohort of the fellowship successfully trained 30 young people in data science and the use of modern tools in decision-making. The 6-month healthcare-focused program would include 3-month intensive training in a classroom learning environment and a 3-month paid internship; where participants would have the opportunity to work closely within the Amina J. Mohammed SDGs Data Lab of the Kaduna State Bureau of Statistics.
The Data Lab project is jointly implemented by the Kaduna State Government, the Bill and Melinda Gates Foundation and the Natview Foundation for Technology Innovation.
Advantages
Program participants will receive the following benefits:
A chance to improve your skills and develop a career in the world's most sought-after industry.
An opportunity to work with a team of public policy experts, data analysts to contribute to development planning, public policy and the use of data for evidence-based decision making in the health sector. health.
Fully paid 6-month internship program with industry leaders and health sector stakeholders.
Model data using artificial intelligence and machine learning tools within the Amina J. Mohammed SDGs Data Lab.
Build a sustainable network within the data science ecosystem.
Eligibility
Candidates must be aged between 18 and 35, except in exceptional cases;
State of residence must be in Kaduna;
They must have graduated from institutions of higher education in one of the STEMS courses, in particular: statistics, mathematics, computer science, engineering, economics, physical sciences and any other health-related discipline. Undergraduate students in the identified STEM fields who are doing their internships for 6 months to 1 year are also encouraged to apply.
They are looking for people with the following skills:

Basic computer knowledge
Basic knowledge of working with data and understanding of Microsoft Excel
Skills for problem solving
Communication skills (written and oral English)

Gender balance and 50% split will be considered during the selection process.
Application
May 20, 2022 – Application deadline
May 21 – May 24 – Review of applications and selection of successful participants
Click here to apply
For more information, see the FAQ and visit Click Kaduna.