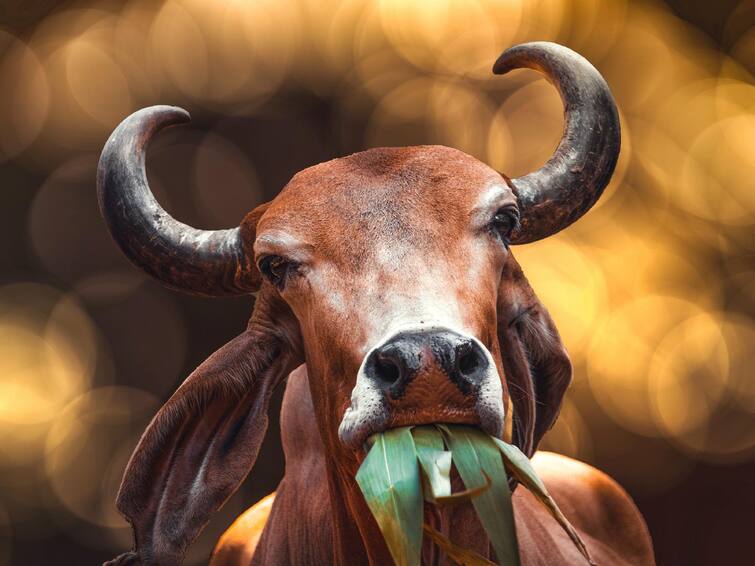 Cow Economy Technology AI Machine Learning Blockchain Gau Vision Project
Cows play a major role in India's agrarian economy. Apart from being revered by Hindus, cows also help make India the world's leading milk producer, accounting for 23% of global milk production. According to data from Invest India, the Indian dairy market is currently valued at around Rs 11.35 lakh crore. However, when the cows are no longer dairy (unable to produce milk), they are either sent to slaughterhouses (in states where this is allowed) or simply left to roam the streets and fields as impoverished owners find themselves unable to bear the cost of fodder and maintenance.
According to the 20th Livestock Census, released in October 2019, India had around 50 lakh of stray cattle, with Rajasthan and Uttar Pradesh leading with 1.27 million and 1.18 million, respectively.
To solve this problem, a working paper from IIM Ahmedabad suggests the use of advanced technologies to establish a socio-technical-financial system that will take care of non-dairy cows. The in-house and proprietary research for this project was carried out by TechMachinery Labs, an Indian product-focused company that focuses on track and trace, anti-counterfeiting and process digitization using technology tools advanced such as machine learning, advanced analytics. , computer vision and others.
What is a cow-based economy?
According to the working paper, titled "Gai Aadharit Unnati (GAU): Modernizing the Cow-Based Economy through the Application of Advanced Technologies," India has been predominantly an agrarian economy "since ancient times." While cows are revered as they provide food, fertilizer and medicine in the form of milk, manure and urine, bulls are used for vital labor such as pulling carts, grinding mills for oil extraction, etc.
Thus, the cow-based economy can be defined as the process of deriving benefits from "the basic definition of dairy products, i.e. milk (including milk-derived products) plus GAUDhan ( manure and urine products) plus GAUSeva (caring for cows)," said Gaurav Kedia, co-founder of TechMachinery Labs, IIT alumnus and IIM visiting professor, who is also co-author of the article.
Why worry about stray cows?
Before going into the study, it is important to understand why such a project is necessary.
According to the IIMA article, stray cows pose a threat to themselves as well as humans as they often cause serious road accidents. On top of that, stray cattle sometimes raided agricultural fields, causing valuable crop damage.
However, the working paper proposes a circular economy model "that helps raise stray cows while creating jobs and boosting the economy through cow dung and urine products."
The paper notes that cow dung from two animals can produce enough biogas to cook three meals a day for a family of four (two adults, two children). Biogas can help reduce India's reliance on LPG, of which 26.3 million metric tons were consumed in the country in 2019-20. "India has the potential to save at least $55 billion in foreign currency annually, if 50% of biogas potential is realized," the study notes. So, if a sufficient number of cows are gathered, a compressed biogas plant can be set up with relative ease.
This is where tracking stray cows and caring for them plays a major role, according to the study.
How can machine learning help track cows?
For those who don't know, machine learning is a field of study that uses artificial intelligence to help computers or software learn to more accurately predict outcomes without the need for explicit programming to do so. .
The article suggests the development of an AI-based model that involves machine learning-assisted facial recognition technology to help donors track their donations for stray non-dairy cows in real time, while ensuring a good care of them through partner gaushalas (established stables). ) and NGOs. The goal is to develop a self-sufficient cow-based economy.
For the project, TechMachinery Labs created machine learning models to help recognize a cow's face from a live cow or photo of the cow. It works the same way facial recognition works for human faces, but with a slight twist.
"Human facial recognition works by measuring distances between features such as lips and eyebrows. On the other hand, the animal is recognized based on patterns and shapes on the face and skin of the cows," said TechMachinery Labs co-founder Nishant Krishna, an inventor and innovator who holds a U.S. patent as well. than a machine learning expert. blockchain, IoT, architecture and security. Krishna is also a co-author of the article.
Now, animals don't really have a "face" – mainly because their eyes are mostly set to the sides, not the front like humans. However, given the lateral placement of the eyes, cows can have two or three profiles that can be considered faces.
Challenges of scanning cows
There are certain challenges when it comes to scanning a cow's face. Krishna explained: "For human faces features such as forehead height and nose length can be used but animals do not have such features which are standard for all races, some cows have horns and some don't."
Although patterns on an animal's face sometimes provide an advantage for facial recognition, some cows have a single color, with no patterns, "making it difficult to differentiate and select features," Krishna added.
Using a combination of convolutional neural networks (CNN) and machine learning models, along with internal research in addition to other models and research such as Resnet, Mobile NET, and SSD, TechMachinery Labs has developed recognition technology facial for native cattle. breeds.
Facial recognition technology is implemented through a mobile application, called the GAU Vision application. Using the app – only available on Android as of now – all you have to do is take a photo or video of a wandering cow, and it'll show results for matching cow faces with a minimum accuracy level of 92%.
How does blockchain come into play?
Blockchain is a digital ledger that keeps a log of all transactions made on a network. The biggest advantage of the blockchain is that once an entry has been connected, its details cannot be changed by anyone, ensuring that records are kept.
Although at a nascent stage currently, the GAU project seeks to use blockchains such as Ethereum, Cardano, government chains, private chains, and other proprietary chains to establish a solid security and governance model.
GAU will also introduce Non-Fungible Tokens (NFTs) to its platform, to help showcase creators' artworks through a secure monetization model. These NFTs will be beautiful sketches and paintings of wandering cows to gaushalas.
Who are the donors? Is the GAU Vision application deployed publicly?
According to Kedia, anyone can be a donor. "Every user of the GAU platform is a potential donor," he said, adding that the project focused on individual donors at the start. "The institutional donors will then follow in the future. We start with IITs, IIMs and other accessible groups who are enthusiastic about the idea. »
Donors can use the GAU Vision app to check cow profiles, view cattle details, check details of donations made so far and also launch the GAU portal to donate through a payment gateway.
According to Krishna, the app is fully developed and ready to use. "We are in the validation and limited testing phase," he said. The app currently works with a maximum of 10,000 cows from now on. "We are continuing to develop the app to ensure digitization is not an issue, even with millions of cows. It will be released during the current fiscal year itself.
What does GAU bring to the cow economics table?
"GAU is not doing anything new, but achieving the goal of a cow-based economy in a unique or technology-based way is something we do differently," Kedia said. "The core remains cow facial recognition, and the GAU model was developed to bring 100% transparency to the system."
TechMachinery Labs believes its model will allow others to develop their own ideas and incorporate them into the GAU vision. The team is also looking to integrate an AI-based health analysis feature, which will recognize a cow's health status simply by scanning it through the app. Kedia hopes this will make the model more appealing.
The project will also make its GAU decentralized service mesh available to other organizations in the social impact sector, so they can build their own applications on top of existing frameworks using standard APIs.