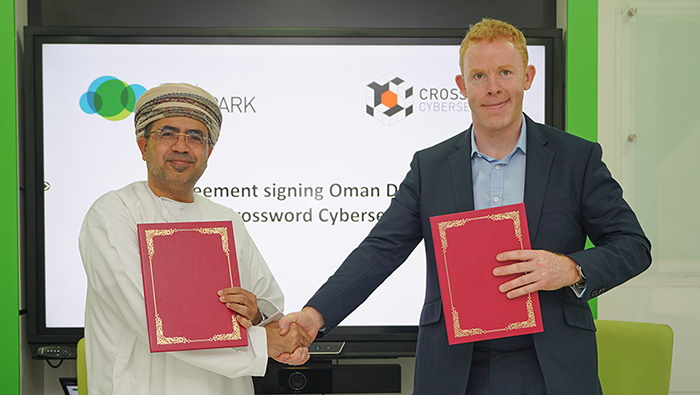 Oman Data Park signs agreement to reduce cybersecurity risks for public and private entities
Muscat: Oman Data Park (ODP) has signed a strategic cooperation agreement with the Omani-British company Crossword Cybersecurity, to provide services that help reduce cybersecurity risks for public and private entities and strengthen the protection of the cybersecurity structure sensitive information to Oman.
The agreement aims to add more security measures to secure the data hosting process for institutions and companies, strengthen its protection against the danger of third parties such as suppliers and other parties, and verify funding sources, checking for suspicion of money laundering.
The agreement was signed by Eng. Maqbool Al-Wahaibi, CEO of Oman Data Park (ODP) and Stuart Jubb, Managing Director of Crossword Cybersecurity Group.
Commenting on the event, Engineer Maqbool bin Ali Al Wahaibi, CEO of Oman Data Park Company, said, "We are pleased to sign a partnership agreement with an international company such as Crossword, to transfer technology related to cybersecurity in order to ensure the protection of the sensitive data of government entities and private companies in the Sultanate of Oman, in particular, by combating external attacks targeting certain public and private companies where they penetrate their devices and affect their data and incur heavy losses for them.
Maqbool added, "We are excited to call on government agencies and businesses to leverage high-tech services to bridge the gap in the areas of cybersecurity information sharing."
For his part, Khalid bin Ali Al Maskari, Development Director at Crossword Cybersecurity said: "Signing an agreement with Oman Data is considered a strategic step to establish a cybersecurity plan at the regional level, while this agreement allows to expand cybersecurity. services and strengthens the skills of national executives with professional experience.
Al Maskari added: This agreement is a giant step in the provision of various services in the Sultanate of Oman via Oman Data Park, to government agencies and businesses, aimed at securing their data and sensitive information, as well as exchanging experiences with reputable international companies in the field. area of ​​cybersecurity, such as Crossword Cybersecurity in the UK.
Crossword, a UK-based global cybersecurity solutions company, has a vision to partner with organizations to keep them safe in the digital world.
Crossword offers a range of cybersecurity solutions to help businesses understand and reduce cybersecurity risks, through a combination of experts, processes and technologies, in the form of a team of experienced consultants, managed services and products.
Crossword's areas of focus are cybersecurity strategy and risk, supply chain cybersecurity, threat detection and response, and digital identity.
The company works closely with UK universities, while its products and services are often powered by knowledge from academic research.
As for ODP, the company has been instrumental in providing an all-in-one solution of computing, cloud services, data storage, networking, as well as web hosting and network security services. ., while it has an advanced virtual data center in the field of cybersecurity – Syber Security Park, with a world-class level of quality, which has allowed the recipients of its services to save up to 55 % on total cost of ownership compared to traditional data centers.
Oman Data Park services are characterized by being based on ingrained standards compatible with local and international requirements in their field of work, as well as professional management and support by a highly skilled team of experts. qualified and professionally accredited.
The services provided by ODP, through its Cyber ​​Security Park and its capacities in the field of hosting and cloud services, have strengthened the capacities of many economic and commercial sectors, such as banking, services financial, oil and gas, logistics and other business sectors. and economic activities, serving governmental and non-governmental institutions.
It should be noted that ODP, the Sultanate's leading managed cybersecurity and cloud service provider, plays a vital role in supporting Oman's digital transformation, through its offering of an all-in-one solution. one of computing, cloud computing, data storage, networking, web hosting and network security services. ODP also offers the Sultanate's first AI-ready cloud infrastructure – Nebula AI powered by Nvidia.